Whatever your motive though, the toughest part is knowing where to start. This is especially true of Android development which is highly multifaceted and rapidly changing all the time. Learning Android development means you not only need to familiarize yourself with Android Studio, but also get to grips with the Android SDK, Java and heady programming concepts like methods and classes.
But don't let that put you off. When taught correctly, building Android apps doesn't need to be difficult. With DGiT Academy, you'll be guided by the hand through every step of the process. New concepts are introduced in easy-to-follow, bite-sized lessons that you can complete at your own pace. And if you have any questions? Then you'll be able to get the answers directly from Gary himself!
If you follow Android Authority or Gary explains on YouTube, then no doubt you're already familiar with Gary's knack for explaining complex subjects in simple terms. Who better to guide you through this daunting task and ensure that you fully grasp every facet of app design, development and execution?

What Makes Gary Such A Great Teacher:
Gary has always been super helpful with the projects I've done where I needed to seek his advice. There are dozens of articles and videos with my name on them that have little bits of Gary's advice strewn about them. Perhaps my favorite example was him taking an exorbitant amount of time (late in the day at that!) to explain to me how Bluetooth works so I could sound smarter in an article where I lament the trend of headphone jack removal from flagship smartphones. It ended up on the front page of Reddit that day and despite a viewer count that reached into the hundreds of thousands over the course of mere hours, not one person critiqued my explanation (which was just a paraphrasing of what Gary said anyway and he was totally cool with it) of how Bluetooth worked. Having that kind of confidence on big pieces like that lets me worry about other things and I can't thank Gary enough for his help when he lends it to me
- Joe Hindy Tech Writer

We take for granted the bits and pieces that make technology work, but Gary does not. Whenever I am ready to dive deeper, to learn what makes my technology tick, Gary has an easy to understand explanation
- Jonathan Feist Drone Rush

Lots of people know their stuff. Gary can actually explain it as well, and do it in a way that just about everyone will understand.
- Bogdan Petrovan Managing Editor

Gary knows how to cut through the fluff and tell you what you need to know in a simple way. It doesn't get any better than that!
- Mitja Rutnik Tech Writer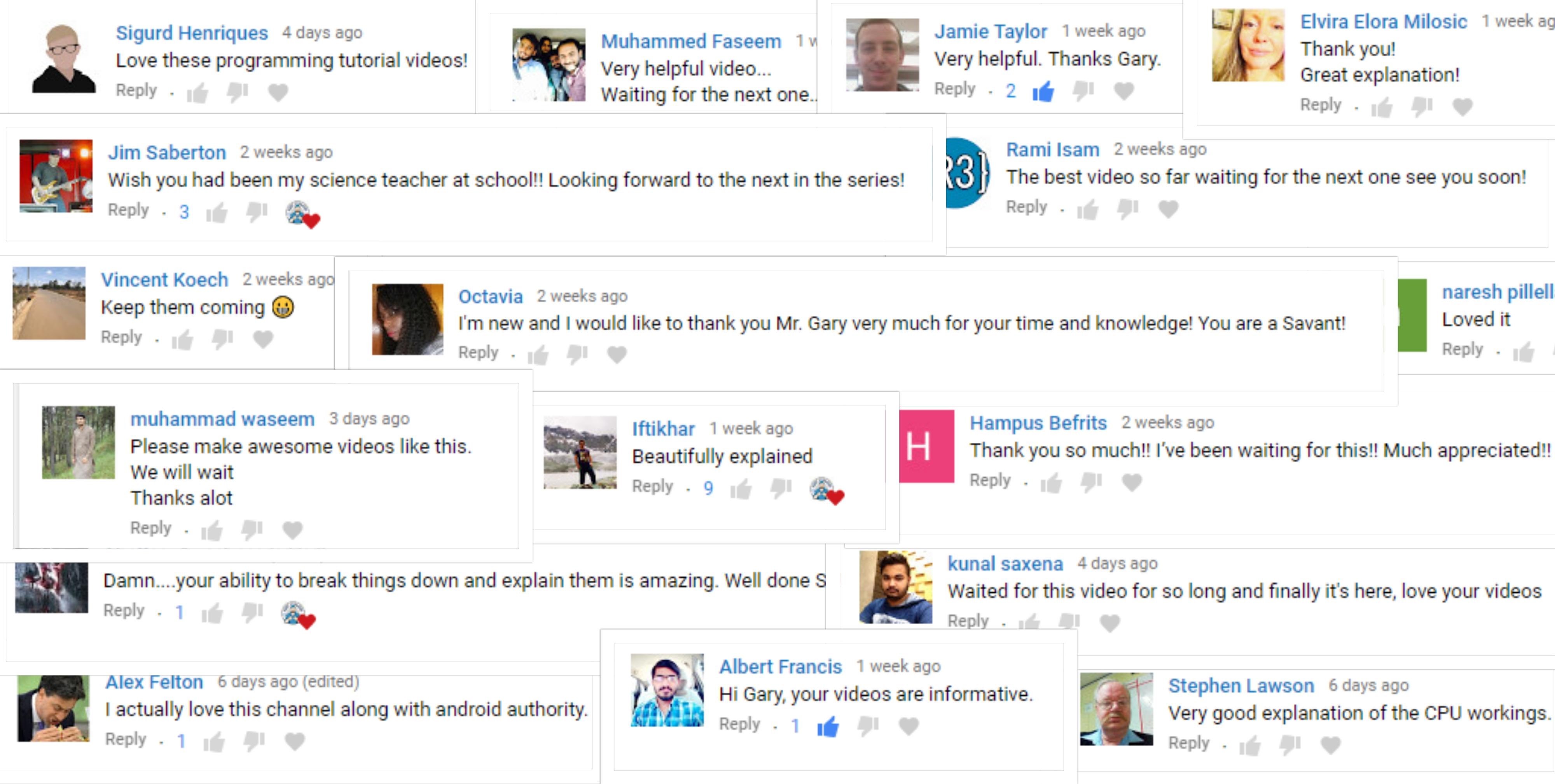 Course Features
While we are constantly adding new features, the course already includes all of the following:
Over 6 hours of easily-digestible classes. In each video lesson, Gary introduces and thoroughly explains a new concept while building on those that have gone before. Each video includes on-screen directions that you can follow along with, pause, rewind or slow down. Learn at your own pace.
Full glossaries and links to external resources for every lesson. While you are welcome to take notes, we've done the hard work for you and prepared a list of further reading and useful explanations for you at the end of every lesson!
Complete source code for sample projects and lessons. Sometimes the best way to learn is to reverse-engineer a piece of code that already works. All code will be made available for you to test yourself, learn from or repurpose for your own projects.
In-depth written tutorials for more complex subjects. Looking for extra credit? We delve into more complex Java concepts, coding tips and more in a number of written posts that you can read at your leisure.